Upon clicking Add to Cart products will appear in shopping cart in right hand menu.
Available Book & CDs
Awakening Shakti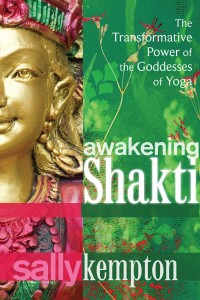 How do you live a life of spiritual awakening as well as outer abundance, inner freedom as well as deep intimacy? How do you serve the world selfessly, yet passionately celebrate your life?
The sages of Tantra have known for centuries that when you follow the path of Shakti—the sacred feminine principle personified by the goddesses of yoga— these gifts can manifest spontaneously. Yet most of us, women as well as men, have yet to experience the full potential of our inner feminine energies.
When you know these powers for what they are, they heighten your capacity to open spiritually, love more deeply and fearlessly, create with greater mastery, and move through the world with skill and delight. In Awakening Shakti, you will learn how to recognize and invite:
Kali, bringer of strength, fierce love, and untamed freedom
Lakshmi, who confers prosperity and beauty
Saraswati, for clarity of communication and intuition
Radha, who carries the divine energy of spiritual longing
Bhuvaneshvari, who creates the space for sacred transformation
Parvati, to awaken creativity and the capacity to love
With a wealth of meditations, visualizations, mantras, teachings, and beautifully told stories, Awakening Shakti provides a practical guide for activating the currents of the divine feminine in every aspect of your life.
Retail: $19.95
Book ($16.00):
Kindle E-book:
Available at Amazon
---
Shakti Meditations: Guided Practices to Invoke the Goddesses of Yoga
Everything new that comes into our lives—every change that unfolds—emerges out of Shakti, the universal force of creation and transformation.
Shakti Meditations provides an immediate way to experience the many gifts of this divine feminine power. Taught by expert meditation teacher Sally Kempton, these guided inner practices use India's goddesses of yoga as gateways for discovering and inviting the many dimensions of Shakti.
Like rivers flowing through us, each deity carries its own unique energies to help empower and guide us in our spiritual, relationship, career, and creative paths. As we meditate upon them, their virtues and energies begin to arise in such forms as:
Durga, for strength, protection, and action
Lakshmi, for abundance and self-compassion
Kali, to ignite our courage and clear inner obstacles
Saraswati, to spark creative inspiration and clarify communication
Maha Devi, to draw us closer into spacious and liberated consciousness
This 4 Audio CD set is for yoga lovers, healers, meditators, and anyone who needs to call on the power of the feminine. Shakti Meditations gives listeners a powerful method to explore this limitless source of light and energy within us.
CD 1
Introduction 0:33
The powers of goddesses 9:51
The feminine face of spirit 4:38
Experiencing the goddess as our breath 3:38
Goddesses as expressions of Shakti 8:06
Experiencing the goddess energies 7:25
The practice of deity meditation 8:02
Benefits of deity meditation 8:05
How to work with this program 5:36
Invoking the Goddess Practice 11:56
CD 2
Introduction 0:31
Durga: Goddess of Protection and Inner Strength 14:23
Durga Meditation 12:58
Lakshmi: Goddess of Abundance, Good Fortune, and Love 9:18
Lakshmi Meditation 11:45
Kali: Goddess of Transformation, Destruction, and Transcendent Energy 5:43
Kali Meditation 8:14
CD 3
Introduction 0:31
Parvati and the Sacred Marriage 10:28
Parvati Meditation 5:04
Dhumavati: The Crone Goddess of Disappointment and Letting Go 6:49
Dhumavati Meditation 7:37
Saraswati: Goddess of Learning, Music, and Insight 7:17
Saraswati Meditation 6:37
Chinnamasta: The Headless One 10:41
Chinnamasta Meditation 8:30
CD 4
Introduction 0:31
Lalita Tripura Sundari: Goddess of Erotic Spirituality 6:42
Lalita Meditation 10:31
Bhuvaneshwari: Goddess of Infinite Space 5:08
Bhuvaneshwari Meditation 14:51
Becoming intimate with the goddess Shaktis 9:03
Meditation on the Sacred Feminine 5:57
Retail: $29.95
4 CD Set ($24.00):
Sounds True has the CDs available as downloads here.
---
Meditation for the Love of It
Sally's indispensable on-the-mat guide to making your meditation a profound, adventuresome, and deeply enjoyable relationship with your inner self. Meditation for the Love of It—written in Sally's clear, personal style—explores the theory and practical reality of meditation practice—including the whys and hows of core meditation techniques, the best ways to work with thoughts and emotions, the meaning of experiences at every level, and the secrets of tuning into the power at the heart of meditation. An updated version of Sally's classic The Heart of Meditation, which so many people have used as their hands-on companion in building a sustainable practice. Foreward by Elizabeth Gilbert, author of Eat, Pray, Love.
Spirituality and Health magazine's reviewer said: "…this guide to learning from one's own deepest experience is a treasure unlike any other. This is the book on meditation that your heart wants you to read."
Retail: $19.95
Book ($15.00):
Kindle E-book:
Available at Amazon
---
Beginning Meditation
A short course in meditation, offering Sally's seasoned clarity and insight for setting up and renewing your practice, as well as her unique meditation transmission. The 2-CD set includes a lively and inspiring talk on meditation practice, as well as several meditation sequences, each of which takes you deeper. The CD is a perfect gift for both beginning and seasoned meditators.
Session One:
1. Introduction (0:50)
2. The paradox of meditation practice (11:22)
3. The meditation bandwidth (7:25)
4. Place, posture, and intention (5:13)
5. Meditation and the breath (9:26)
6. Finding a core practice (6:46)
7. Meditation on a sound (13:18)
8. Working with your thoughts (9:38)
9. Whatever arises is part of your practice (9:39)
Session Two:
1. Introduction (0:42)
2. About the practices (4:14)
3. Meditation on the space between the breaths (15:57)
4. Compassion meditation (21:56)
5. Meditation on the inner teacher (15:21)
6. Meditation on the inner body and "I am" (15:47)
Retail: $19.95
2-CD Set ($15.00):
Sounds True has the CDs available as downloads here.
---
Her Classic: Awakened Heart Meditation
Available as CD or as downloadable MP3

Two guided meditations, with posture instructions, based on practices in Sally's Opening the Heart workshops. The 15-minute Awareness meditation and the 20-minute Entering the Heart meditation can be used for daily practice or for centering in times of stress. CD booklet includes complete instructions for setting up a home meditation practice.
Track 1: Intro to CD (1:20)
Track 2: Intro to Meditation (1:40)
Track 3: Posture (3:47)
Track 4: Awareness Meditation (20:29)
Track 5: Intro to Heart Meditation (4:10)
Track 6: Heart Center Meditation (16:05)
CD ($15):
MP3 ($10):
---
Finding the Center: Meditating in the Space Between Breaths MP3

Hamsa Meditation
12 minutes in length.
MP3 ($5):
---
We do offer quantity discounts on all books and CDs. For wholesale orders of Awakening Shakti, Shakti Meditations, Meditation for the Love It, and Beginning Meditation, contact Sounds True at 800-333-9185. For whole sale orders of Awakened Heart, please contact salesATsallykempton.com.