We are currently in the process of migrating to a new telecourse access/purchase system.
Purchasing will reopen Friday, September 20.
Upon clicking Add to Cart products will appear in shopping cart in right hand menu. INTERNATIONAL ORDERS please select "Shipping Option", otherwise your shipping calculation will be incorrect, and we will contact you for additional funds for postage.
PLEASE NOTE: You may incur additional import duties when ordering for international delivery.
Available Book & CDs
Sally's NEWEST: Doorways to the Infinite: The Art and Practice of Tantric Meditation
Tantric Meditations and Practices for Radical and Profound Spiritual Discovery
The sensuous and the sublime, the ordinary and the divine—on the Tantric path, all qualities merge as one in the ecstasy and wonder of awakening.
Doorways to the Infinite invites us to directly experience the core practices and insights of Tantra from its original source: Kashmir Shaivism's Vijnana Bhairava. This dialogue between the deity Shiva and his consort Devi unfolds the secrets for moment-to-moment awakening into inner freedom and open-eyed ecstasy. Now, Sally Kempton unpacks the hidden truths of this text, revealing it as a treasury of powerful pathways to direct revelation.
With her gift for sharing subtle esoteric wisdom in an immediate and down-to-earth way, Kempton guides us into dozens of meditations and methods to engage our senses, imagination, breath, energy flow, attention, and postures as vehicles for radical and profound spiritual illumination. Doorways to the Infinite explores:
The breath within the breath, the heart within the heart
Listening, seeing, and feeling with full presence
Awakening to your inner body as space and light
Opening to the flow of your Kundalini energy
Engaging intense emotions for Self-realization
The spirituality of everyday activities
Intimate relationships and lovemaking
Physical movement, dance, and more
A graceful gesture can lead to a heart-stopping realization of your body as divine. A long, slow exhalation of the breath can reveal your connection to the Source of everything. A sound—any sound—can take you to the reality beyond sound. Realizations can unfold in a thousand ways. With Doorways to the Infinite, discover your true Self—not by transcending the world, but through the extraordinary hidden within ordinary life.
This 6 CD audio learning course includes:
Session One: The Revelation of the Vijnana Bhairava Tantra (1 hour 8 minutes)
Introduction
A manual for accessing your own luminous consciousness
Non-dual Shaiva Tantra
Bhairava, the Inner Guru
The Pulse of Shakti
Meditation: Wherever the Mind Goes is Divine Consciousness
The Path of Self Recognition: Your Heart is the Heart of an Enlightened Being
Experiencing Yourself as "I Am"
The Story of Cosmic Creation
Session Two: The Experience of Innate Divinity (1 hour 12 minutes)
Introduction
Tantric Yoga, The Path of Return
The Divine Conversation
The Direct Path of Non-dual Realization
Shakti is Not Different from the Supreme Self
The Spaciousness at the Heart of the Breath
Meditation: Entering the Center
Session Three: Holding the Center (1 hour 13 minutes)
Introduction
The Breath Turns Inside
Meditation: Awareness of the Central Channel
The Rise of Kundalini
Meditation: Spinal Breathing
The Phases of Kundalini Awakening
Meditation: Rising Kundalini
Meditation: Ajna Chakra, Bridge to the Highest Center
Session Four: Emptiness, Contemplation and the Senses (1 hour 16 minutes)
Introduction
Opening Through the Body to the Great Void
Meditation: Void Within the Body
Meditations:  Neti Neti, Your Head is the Sky
Levels of Emptiness
Creative Contemplation Practices I
Creative Contemplation Practices II
Turning Pleasure into Realization
The Sexual Practice
Meditation: Gazing Upon a Beautiful Object
Session Five: The Yoga of Intense Experience (1 hour 11 minutes)
Introduction
Working with Emotions and Desire
Meditation: Desire as the Pulsation of Shakti
Meditation: Who Am I?
Meditation: Watching Shakti Arise as Thought
Non-duality and Feeling States
Meditation: Working with Anger
Meditation: Transmuting the Energy of Fear
The Middle State Between Pain and Pleasure
Session Six: I Am Shiva: Practices for Immediate Realization (1 hour 14 minutes)
Introduction
Seeing with the Eye of the Absolute
Meditation: What is the Earth's Knowledge?
The Relationship of Self and Other
Cultivating True Compassion
Meditation: I Am Shiva
Meditation: All This Arises From Within
The Mystery of Everyday Experience
Meditation: Everything is Sacred
Meditation: Withdrawing the Mind From All Objects
Liberation in the Body
Retail: $69.95
6 CD Set ($42.00):
Sounds True has the audios available as downloads here.
---
Awakening Shakti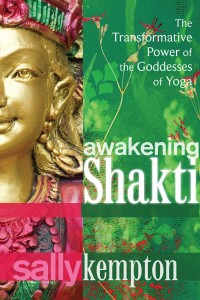 How do you live a life of spiritual awakening as well as outer abundance, inner freedom as well as deep intimacy? How do you serve the world selfessly, yet passionately celebrate your life?
The sages of Tantra have known for centuries that when you follow the path of Shakti—the sacred feminine principle personified by the goddesses of yoga— these gifts can manifest spontaneously. Yet most of us, women as well as men, have yet to experience the full potential of our inner feminine energies.
When you know these powers for what they are, they heighten your capacity to open spiritually, love more deeply and fearlessly, create with greater mastery, and move through the world with skill and delight. In Awakening Shakti, you will learn how to recognize and invite:
Kali, bringer of strength, fierce love, and untamed freedom
Lakshmi, who confers prosperity and beauty
Saraswati, for clarity of communication and intuition
Radha, who carries the divine energy of spiritual longing
Bhuvaneshvari, who creates the space for sacred transformation
Parvati, to awaken creativity and the capacity to love
With a wealth of meditations, visualizations, mantras, teachings, and beautifully told stories, Awakening Shakti provides a practical guide for activating the currents of the divine feminine in every aspect of your life.
Retail: $19.95
Book ($16.00):
Kindle E-book: Available at Amazon
---
Shakti Meditations: Guided Practices to Invoke the Goddesses of Yoga
Everything new that comes into our lives—every change that unfolds—emerges out of Shakti, the universal force of creation and transformation.
Shakti Meditations provides an immediate way to experience the many gifts of this divine feminine power. Taught by expert meditation teacher Sally Kempton, these guided inner practices use India's goddesses of yoga as gateways for discovering and inviting the many dimensions of Shakti.
Like rivers flowing through us, each deity carries its own unique energies to help empower and guide us in our spiritual, relationship, career, and creative paths. As we meditate upon them, their virtues and energies begin to arise in such forms as:
Durga, for strength, protection, and action
Lakshmi, for abundance and self-compassion
Kali, to ignite our courage and clear inner obstacles
Saraswati, to spark creative inspiration and clarify communication
Maha Devi, to draw us closer into spacious and liberated consciousness
This 4 Audio CD set is for yoga lovers, healers, meditators, and anyone who needs to call on the power of the feminine. Shakti Meditations gives listeners a powerful method to explore this limitless source of light and energy within us.
CD 1
Introduction 0:33
The powers of goddesses 9:51
The feminine face of spirit 4:38
Experiencing the goddess as our breath 3:38
Goddesses as expressions of Shakti 8:06
Experiencing the goddess energies 7:25
The practice of deity meditation 8:02
Benefits of deity meditation 8:05
How to work with this program 5:36
Invoking the Goddess Practice 11:56
CD 2
Introduction 0:31
Durga: Goddess of Protection and Inner Strength 14:23
Durga Meditation 12:58
Lakshmi: Goddess of Abundance, Good Fortune, and Love 9:18
Lakshmi Meditation 11:45
Kali: Goddess of Transformation, Destruction, and Transcendent Energy 5:43
Kali Meditation 8:14
CD 3
Introduction 0:31
Parvati and the Sacred Marriage 10:28
Parvati Meditation 5:04
Dhumavati: The Crone Goddess of Disappointment and Letting Go 6:49
Dhumavati Meditation 7:37
Saraswati: Goddess of Learning, Music, and Insight 7:17
Saraswati Meditation 6:37
Chinnamasta: The Headless One 10:41
Chinnamasta Meditation 8:30
CD 4
Introduction 0:31
Lalita Tripura Sundari: Goddess of Erotic Spirituality 6:42
Lalita Meditation 10:31
Bhuvaneshwari: Goddess of Infinite Space 5:08
Bhuvaneshwari Meditation 14:51
Becoming intimate with the goddess Shaktis 9:03
Meditation on the Sacred Feminine 5:57
Retail: $29.95
4 CD Set ($24.00):
Sounds True has the audios available as downloads here.
---
Meditation for the Love of It
Sally's indispensable on-the-mat guide to making your meditation a profound, adventuresome, and deeply enjoyable relationship with your inner self. Meditation for the Love of It—written in Sally's clear, personal style—explores the theory and practical reality of meditation practice—including the whys and hows of core meditation techniques, the best ways to work with thoughts and emotions, the meaning of experiences at every level, and the secrets of tuning into the power at the heart of meditation. An updated version of Sally's classic The Heart of Meditation, which so many people have used as their hands-on companion in building a sustainable practice. Foreward by Elizabeth Gilbert, author of Eat, Pray, Love.
Spirituality and Health magazine's reviewer said: "…this guide to learning from one's own deepest experience is a treasure unlike any other. This is the book on meditation that your heart wants you to read."
Retail: $19.95
Book ($15.00):
Kindle E-book: Available at Amazon
---
Beginning Meditation
A short course in meditation, offering Sally's seasoned clarity and insight for setting up and renewing your practice, as well as her unique meditation transmission. The 2-CD set includes a lively and inspiring talk on meditation practice, as well as several meditation sequences, each of which takes you deeper. The CD is a perfect gift for both beginning and seasoned meditators.
Session One:
1. Introduction (0:50)
2. The paradox of meditation practice (11:22)
3. The meditation bandwidth (7:25)
4. Place, posture, and intention (5:13)
5. Meditation and the breath (9:26)
6. Finding a core practice (6:46)
7. Meditation on a sound (13:18)
8. Working with your thoughts (9:38)
9. Whatever arises is part of your practice (9:39)
Session Two:
1. Introduction (0:42)
2. About the practices (4:14)
3. Meditation on the space between the breaths (15:57)
4. Compassion meditation (21:56)
5. Meditation on the inner teacher (15:21)
6. Meditation on the inner body and "I am" (15:47)
Retail: $19.95
2-CD Set ($15.00):
Sounds True has the CDs available as downloads here.
---
Her Classic: Awakened Heart Meditation
Available as CD or as downloadable MP3

Two guided meditations, with posture instructions, based on practices in Sally's Opening the Heart workshops. The 15-minute Awareness meditation and the 20-minute Entering the Heart meditation can be used for daily practice or for centering in times of stress. CD booklet includes complete instructions for setting up a home meditation practice.
Track 1: Intro to CD (1:20)
Track 2: Intro to Meditation (1:40)
Track 3: Posture (3:47)
Track 4: Awareness Meditation (20:29)
Track 5: Intro to Heart Meditation (4:10)
Track 6: Heart Center Meditation (16:05)
CD ($15):
MP3 ($10):
---
Finding the Center: Meditating in the Space Between Breaths MP3

Hamsa Meditation
12 minutes in length.
MP3 ($5): 
---
We do offer quantity discounts on all books and CDs. For wholesale orders of Awakening Shakti, Shakti Meditations, Meditation for the Love It, and Beginning Meditation, contact Sounds True at 800-333-9185. For whole sale orders of Awakened Heart, please contact salesATsallykempton.com.