---
September 6-8 & 9-10, 2019
TriYoga – Camden
57 Jamestown Road London NW1 7DB
London, UK
Freedom, Ecstasy and Awakening: The Art and Practice of Tantric Meditation
A Weekend Immersion in the Heart of the Spiritual Journey
Tantric practice is the art of finding sacred energy in the midst of ordinary life. It offers a path to direct inner experience that is both mystical and practical—and that can transform your outlook so that you can surf reality even in difficult circumstances.
This paradigm-shifting weekend offers a direct transmission of the heart of these practices. Led by a contemporary meditation master, it is based on a beloved meditation text called the Vijnana Bhairava (Experience of the Infinite). Profound, playful and utterly consciousness expanding, the meditations in this beloved text range from secret tantric breath meditations to contemplations on the power within desire and fear, from meditations on sensory experience to contemplations of your identity with the Absolute. Any one of them will catch your mind by surprise and radically expand awareness. In fact, any one of them can be a portal into enlightened awareness—even for someone new to the journey of meditation.
You'll be guided through a series of powerful teachings, contemplations and imaginative exercises that can shift your approach to meditation, and ultimately transform your body, your mind and your relationships. The workshop offers transmission from a profound tradition of non-dual wisdom, opening pathways that allow an astonishing depth of practice, even for someone new to the path.
During this weekend you will learn:
How to cultivate your connection to Source
Explore the geography of the subtle body
How specific practices help you navigate life
Creative approaches to meditation,
Using pleasure and pain as doorways into self-realization
The secrets of opening energetic blocks
How to meditate with another person during one-on-one dialogue
Sensory meditation practice—turning any moment into a meditation
Mantra, movement and meditative writing as doorways into your own Shakti
Friday evening (6-8 PM): Outer, Inner, and Secret: Introduction to Tantric Meditation
This highly experiential meditation class offers an overview of the different levels of tantric practice, focusing especially on how we can open our body and senses to higher levels of awareness.
Saturday: (10 AM-5 PM) — Embodying Enlightened Energy: The Tantric Art of Enlightened Awareness
As we explore the secrets of the Vijnana Bhairava Tantra, we'll immerse ourselves in practices that build on each other. Each practice opens your subtle and physical body to deeper and deeper recognition of your own sacredness.
Sunday: (10 AM-5 PM) — Embodying Shakti: How to Deepen your Meditation and Awaken Your Life
Plunging deeper into the practice and vision of the tantric sages, we'll explore mantras, chakras, and practices for transforming your subtle experience through empowered meditation practice and emotional energy work.
Additional Workshops:
Monday: (3:30-5:30 PM) — Awakening Mantra: An Exploration and Empowerment in Sacred Sound
"Incomparable is the power of Mantra", says a core tantric text. Yet to awaken that power, we need both understanding and transmission. In this class, we'll explore some of the secrets of mantra practice, and how to bring its gifts into both meditation and open-eyed practice. This workshop unfolds powerful insights of the tantric tradition that can help us kindle the power in mantra, and transform our relationship to language, speech and subtle energy.
Tuesday: (3:30-5:30 PM) — Goddess Saraswati and the Energy of Creativity: Awakening Your Power of Inspiration
In this class, we'll invoke and meditate with Saraswati, the personified energy of inspiration, music and speech. Through meditation, mantra, guided contemplations, visualizations, and writing, this class allows you to truly open to the possibility of higher inspiration for creativity and problem solving.
---
October 4-6, 2019
1440 Multiversity
800 Bethany Drive
Scotts Valley, CA (near Santa Cruz)
Touching Enlightenment: Opening the Heart with Meditation
In this weekend immersion, we'll explore heart-based enlightenment practice and the secret teachings of the connection between the human heart and the universe itself. We'll be working with a variety of techniques from the non-dual devotional traditions of tantra, powered by the flow of Sally's transmission.
More details and registration here.
---
October 13-18, 2019
Kreutch Theatre
University of California
Berkeley, CA
Embodied Consciousness Immersion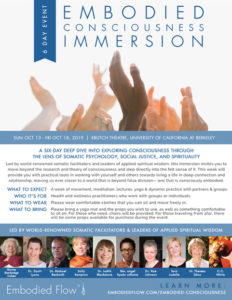 This groundbreaking 6-day workshop brings together a diverse group of teachers to integrate somatics, meditation, yoga, psychology, spiritual activism, as we explore what it is to be consciousness in a human body. The gifted and brilliant faculty includes thought-leader Michael Beckwith, somatics innovator Bonnie Bainbridge Cohen, Judith Blackstone, psychologist and author of The Realization Process, Embodied Flow Founders Tara Judelle and Scott Lyon, activist- psychologist Dr. Rai Johnson, Zen teacher Angel Kyodo Williams, kirtan singer CC White, and Sally herself.
Designed for health practioners, yogis, psychotherapists and anyone drawn to explore the extraordinary truth of the conscious human body, this promises to be one of the most exciting programs I've ever been part of.
Download informational flyer or click here for more details.
---
January 17-20, 2020
1440 Multiversity
800 Bethany Drive
Scotts Valley, CA (near Santa Cruz)
The Practice: A Design-Your-Own-Yoga Retreat sponsored by Yoga Journal and 1440 Multiversity
This is the newest evolution of the great Yoga Journal Conferences. Held at the state-of-the-art facility 1440 Multiversity, the retreat brings together nine powerful teachers, Seane Corne, Annie Carpenter, Rodney Yee and Coleen Saidman, Dharma Mitra, Tiffany Cruikshank, Chelsea Jackson Roberts, Tracee Stanley and Sally. You'll have the opportunity to immerse yourself in several yoga styles, with some of the leading yoga teachers in the world.
Sally will teach several classes in meditative awareness, and on the yoga of the inner world.
For information and registration, click here.
---
April 3-5, 2020
Esalen Institute
Big Sur, Ca
Awakening Shakti: Meditation, Kundalini, and the Opening of the Heart
In this alchemical meditation workshop, we'll explore the kundalini energy, which is the embodied form of the divine feminine and the power behind awakening. The practice focuses on exploring the subtleties of the heart center as well as the 'upper heart'—the world beyond the crown chakra, and how to bring higher consciousness into the body.